If you're someone who spends a lot of time off-road, rock-crawling, or on backroads at night, then you probably don't need any convincing to add auxiliary lighting to your vehicle. If you do spend a lot of time off-road and you haven't added any auxiliary lights like off-road LED light bars to your vehicle, then you might be surprised just how much difference they can make in the dark. 
When you are off-road on the trails or back roads at night, it can be a shock at first just how inadequate most headlights are in lighting up the trail and the woods around you. Even the brightness and luminosity of most high beams just don't offer you the kind of visibility you want to be safe in the woods, where a turn can rise up out the darkness remarkably quickly in unfamiliar surroundings. 
Our off-road LED light bars are designed to solve this problem and add much-needed visibility to your vehicle. Learn more about what sets our Stage Series light bars apart from others on the market below. 
Easy to Mount
Our Stage Series Light Bars are compact in size and at 42mm tall, fit in many places a dual-row light bar won't. Our light bars can be mounted to any vehicle using the included universal mounting brackets. We also offer many bolt-on vehicle-specific kits that allow you to mount a light bar to your vehicle using OEM mounting points - no modification or drilling required. 
All of our light bars come with a standard DT type Deutsch-style connector. They can be easily wired to your vehicle's battery and controlled with a toggle switch using a Diode Dynamics wiring harness. You can also choose to wire it yourself or purchase a different wiring harness.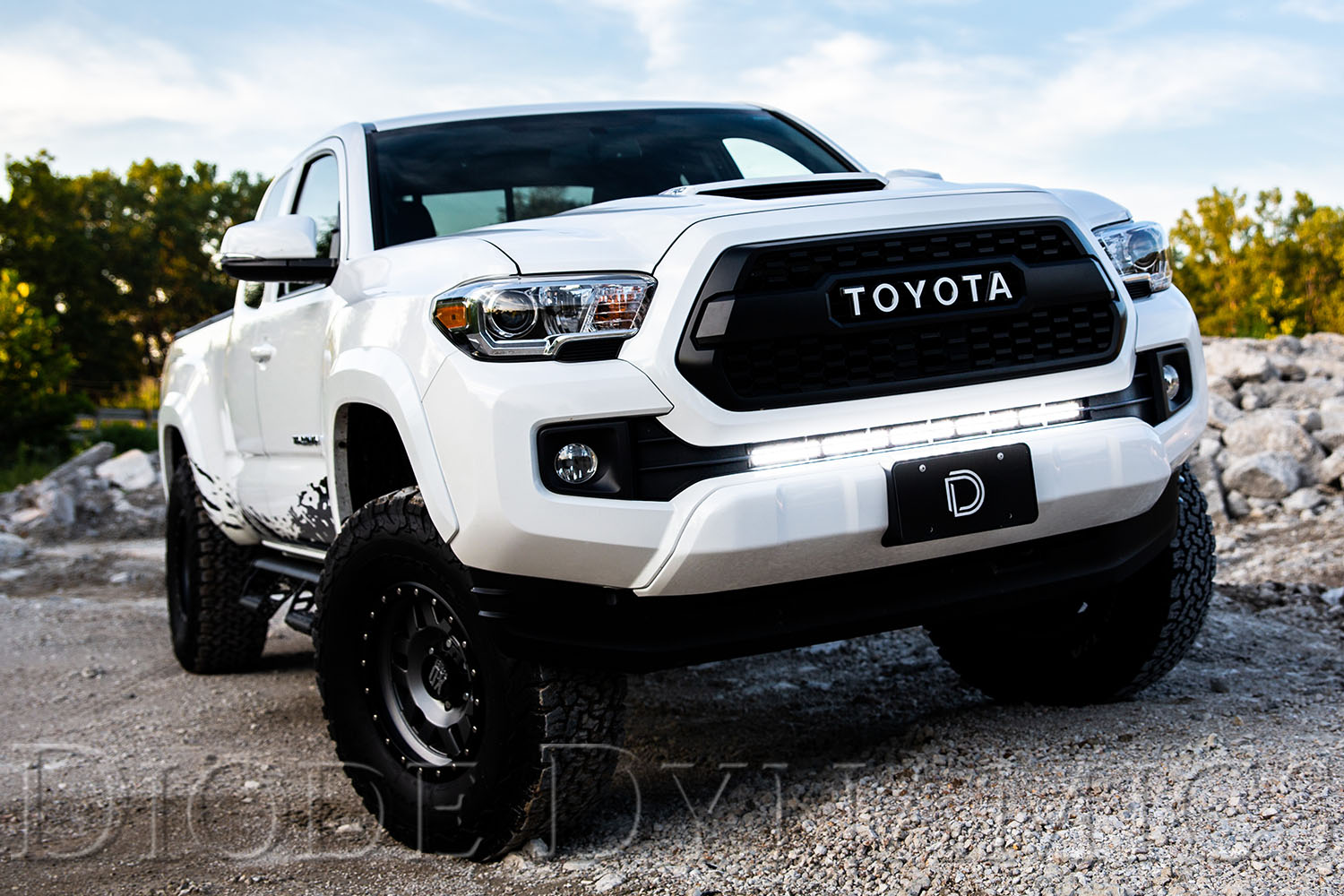 Focused Output
Unlike many other off-road LED light bars that use reflector or basic lens optics, our off-road LED light bars use Total Internal Reflection, or TIR, optics to provide superior focus and efficiency. Other light bars may promise higher brightness and more total lumens, but with the reflector and lens design, a large amount of that light will be scattered and lost to wasted light or glare - this results in a light bar that, though it may be bright, offers more flare than utility. 
Our off-road LED light bars use proprietary technology known as TIR, or total internal reflection, optics which collects all of the light from the LED, and directs it only where you need it, drastically reducing glare and improving total efficiency.  This means that you get more useable output from our Stage Series light bars compared to other light bar options on the market.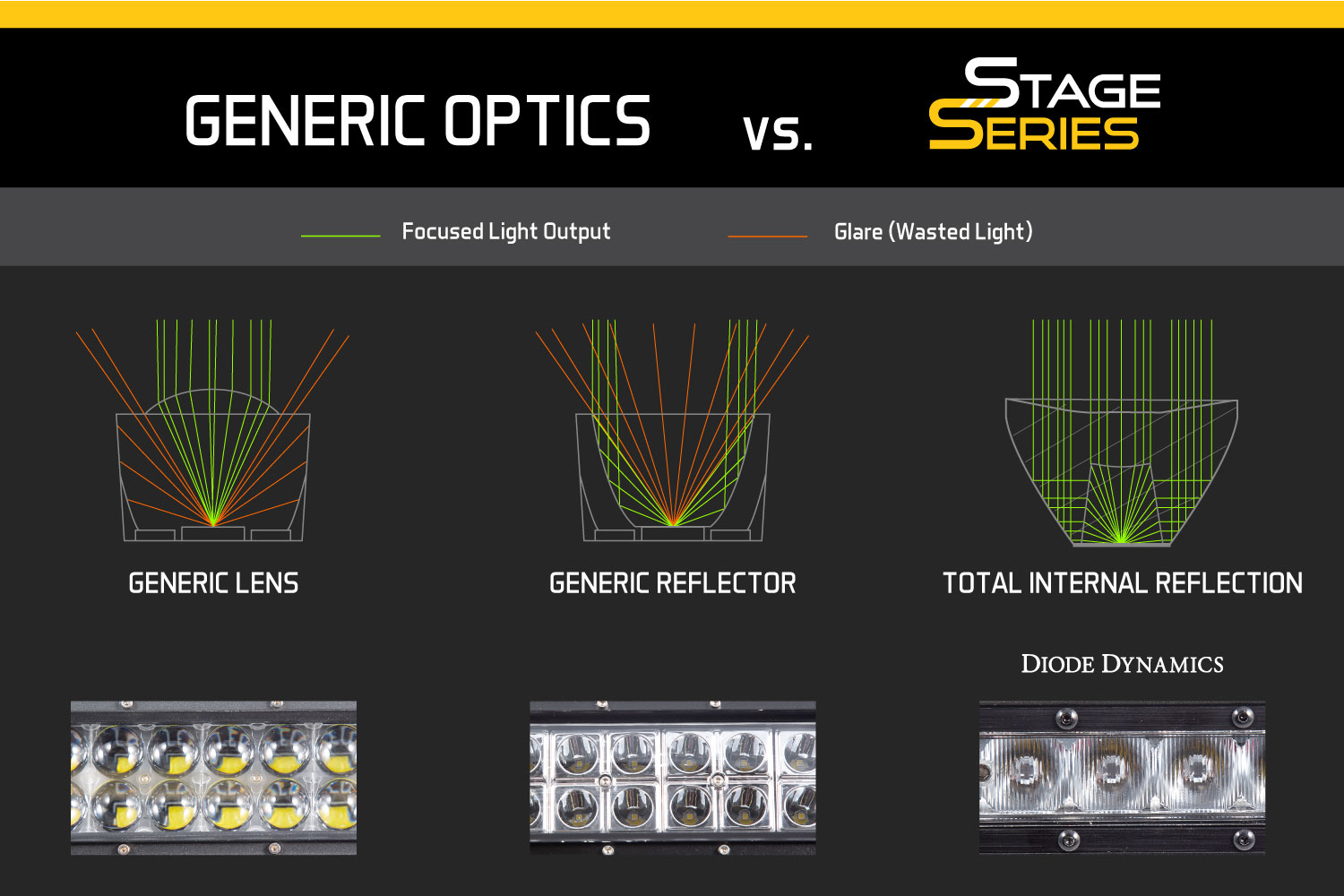 Functional Patterns and Colors
Our Stage Series LED light bars are available in a number of different functional patterns and colors. No matter what situation you will be using them for, there is a Stage Series light bar for you. We offer them in driving, wide, flood, and combo patterns to suit any situation.
Our driving pattern works alongside your high beams to give you better visibility and more light down the road that is useful when you are moving at high speeds. When the 6" size is installed in pairs, our driving pattern meets SAE J581 as a Driving/Auxiliary High Beam Light, for legal on-road use.
Our wide pattern provides an extremely wide field of view, without wasting any light in the sky above and provides a 100Wx8H degree spread of light. It was designed to supplement your fog lights and is perfect for driving in inclement weather. When the 6" size is installed in pairs, our Wide pattern meets SAE J583 as a Foglamp, for legal on-road use. 
Our flood pattern was designed to provide uniform, even illumination and a full 80Wx50H degree spread of light. Unlike generic "flood" light optics that are simply a heavily diffused spot, our flood optic is a true optically designed spread, resulting in the biggest spread in the industry! It is perfect for lighting up anything at low speeds, a backup or reverse light, or to light up a worksite. 
Our combo pattern is available is size 18" and up. It combines both the Driving and Flood optics. It shines light downrange in a focused, rectangular 20Wx8H degree pattern while also illuminating the area around it in a full 80Wx50H degree spread.

In addition, our light bars are available in white or amber, depending on your preferences or intended use for them. The white option produces a 6000K color temperature and the amber option produces brilliant deep yellow color, perfect for hazards or high contrast in poor weather.


If you regularly take your vehicle off road at night, you need to add off-road LED light bars to your vehicle. Our Stage Series light bars will provide the visibility you need and have been built to last. They have been extensively tested in extreme temperatures as well as resistant to corrosion, moisture intrusion, and vibration, and are even backed with an 8-year warranty. 

If you have any questions about adding auxiliary lighting to your vehicle, feel free to reach out to our team and we can help you out.  You can reach us by phone at 306-717-8666 or by email at support@esskcustoms.com.